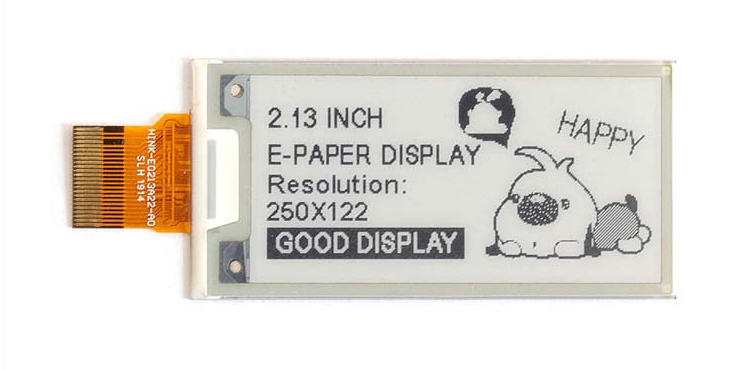 Epaper display from Good Display: 2.13"
Resolution
Refresh time:
Active size:
Shades of gray:
Cale-idf classname:
250x122
1800 Millis
23.7*48.55
2
gdeh0213b73
Description
Supported in our ESP-IDF component Cale-idf:
gdeh0213b73.h please note that this epaper is marked as EOL (Not anymore fabricated, end of lifetime)
This is also the right resolution for the small 2.13 Lilygo T5 epaper. Please use 1 bit resolution in Cale for this, there is a small bug with 4 bits that is not showing the bitmap like it should.

Same classname for those who want to use GxEPD. Preview of Lilygo T5 2.13 epaper:

Purchase link
Please check our
Arduino esp32 C++ Firmware for Epaper
to use the image provided with
CALE
in your ESP32 SPI display. If you want to build a custom Firmware using Espressif IDF own framework we highly recommend to check our
project Cale-Idf
.