Financed with Ethereum
The spice, Melange, is the name of the fictional drug central to the Dune series of science fiction novels. In an effort to separate this project of our financial woes we are going to use Ethereum as our spice to finance CALE.es
With that vision we installed a mining server in our studio and we are going to further implement new premium features in the site that can be unlocked with micro-transfers of this currency.
Secure and anonymous
Being all this 100% transparent for everybody, but at the same time anonymous and secure, it's the ideal way of payment and finance this web-service project.
If you use the web-service in your company we kindly ask you to collaborate in github Sponsoring any of our Eink Firmware solutions or simply doing an anonymous transfer to our ETH address.
0x68ceab84f33776a7fac977b2bdc0d50933344086
Advertising:
We use
YouHodler
to generate interest from our Crypto assets and keep this web-service up and running
Mining Ether
Our Ethereum server is mining 0.15 ETH monthly which is enough to pay our Amazon AWS server costs. Additionally we also added the option to Sponsor us using Ethereum in our Github repositories.
All this can be done anonymously and we are going to use this financial aid with this goals:
Primarily to research and develop new epaper drivers. We have already our own epaper component

CalEPD

that is currently being developed with new features such as color support and touch.
Buy new hardware (epapers, controllers & electronics)
Add server power for the growing demand of image processing
Handle requests to prepare this web-service to be installed in a local environment (starting at 1.5 ♦ ETH). This is the wish of users that want to install the image service in the intranet for their companies.
Showing your Ether balance in your displays
With the integration of Etherscan API in CALE you can also show your Ether balance or your latest transactions in your epaper display.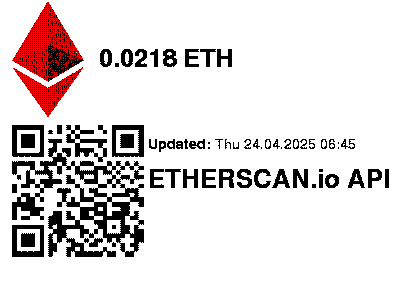 Bitmap image generated using our web-service. Top: Ethereum balance demo account Bottom: ETH Address QR code